Durga Puja Pandal in Delhi NCR to witness Goddess's elegance
Durga Puja Pandals in Delhi (NCR)
West Bengal glorifies the big fiesta- Durga Puja or Kali Puja to mark the victory of Goddess Durga with much gusto and zest in the course of Navratri. On the horizon, the exotic Navratri splendour is not limited only to Bong gala but other states also acclaim this joyous carnival with excessive glee and mania.
Durga Puja is especially dedicated to the last four days of the Navratri celebrations, solemnized in Bengal vicinity as well in other cities.
As the other cities get ready to immerse in the festive merrymaking, Delhi (the capital city) adorns itself to showcase the much procrastinating divine idols of Goddess Durga and other divinities.
To beat the monotonous daily routine of Delhi people, Samitis, Co-operations, Pandals and hopping stalls are organised annually at the time of Durga Puja or Navratri festival. Take glances of the stupendous Durga pandals, made by phenomenal artisans who come from the different corners of India to carve marbled stone pieces into the most astounding Goddess effigies for Durga Puja.
1- Mela Ground, CR Park –
Durga Puja Samiti in Mela Ground exhibits the fierce images of Mother- Durga during the four days of Navratri. This striking pandal is positioned in CR Park and thus referred to as one of the famous refined Puja Pandals in Delhi NCR. This Pandal not only unveils the beauteous images of the divinity but stands as the cultural gully for the visitors.
The perfectly designed pandal of divine goddess- Durga at Mela Ground, CR Park is a must attend occasion for the avid followers of Mother- Goddess as well as for the ardent zealots of Bengali tradition. This pandal is also said to preserve the optimistic legacy of the typical Bong Durga Pujo.
Address: Near Raisina Bengali School, CR Park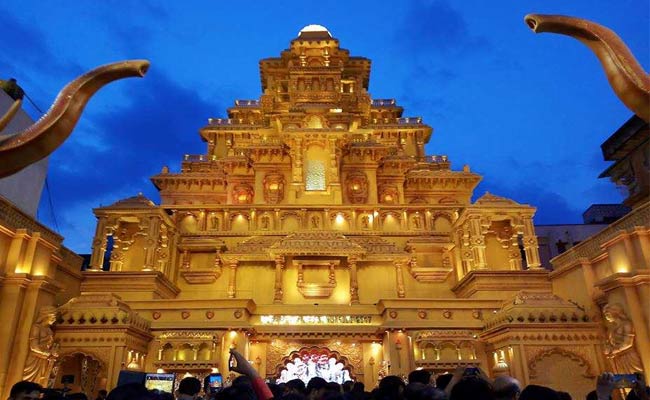 2- Kashmiri Gate –
Durga Pandal fixes at Kashmiri Gate each year since 1910. Being the oldest Durga Pandal, this is well-known as Kashmiri Gate Durga Puja Samiti in Delhi.  The idols of Goddess Durga are organised in ancient aesthetic pattern. Thus the entire architecture of each pandal is of typical antediluvian style which is termed as- Daaker Saaj. Daaker Saaj idols are one framed- effigies crumpled in silver and golden fabrics.
Meanwhile, this Samiti also celebrates its birth-anniversary inside the Pandal area. There pandals have distinct figurines of the savage personification of Goddess Durga, therefore it is also famed as the most visited pandals in Delhi (NCR) throughout the reglious Carnival.
Address: Bengali Senior Secondary School, Alipur Road, Delhi
3- Co-operative Ground Durga Puja Samiti –
With the name suggests, the Durga Puja Pandals maintained by co-operation in Co-operative Ground Durga Puja Samiti witnesses the most astonishing embodiments of Mother- Durga. This Durga Puja Samiti is the first one which has settled the idea of solemnizing the Durga Puja in Delhi in 1976. Also, crowned with an award of 'Durga Devi Namustute Award' by Times of India's many times.
During Puspanjali and Dhunuchi Naach, people throng up all together hand in hand to participate in the cultural activities throughout the time of the festivity. Royal figurines are set up and decorated in creative style to bring in exotic distinctive atmosphere to the visitors.
Address: Near K Block, Chittaranjan Park, Delhi.
4- Timarpur Puja Samiti –
Every year, one of the delicate and exquisite portraits of Mother Durga is spotted here. With a touch of modish pattern, Timarpur Puja Samiti displays its much wonderful idols of the divinity, since 2013. During the Durga Pujo, Goddess figurines are made here in both traditional and classic style.
On the tenth day of Durga-Puja that is famed as- Durga Visarjan is also exalted with immense devotion and zeal. Other than cultural fusses, some reverent uproar can also be seen, inclusive of- singing competition, dance programs, blowing conch (shankh), games, cooking sessions, hopping and other numerous fun-loving activities.
Address: Govt. Residential Colony, New Delhi.
5- Kalibari, Chittaranjan Park –
Another major attraction in CR Park is Kalibari that unveils bonny images of Goddess Durga and theme based pandals in a most surpassing way.  Even Kalibari is supposed to be the largest and the biggest centre for Bengalis (bongs) arraying a beautiful fusion of culture and the traditional sanctity.
The bright coloured pandal of Durga deity also conducts traditional rituals on a daily basis for consecutive four days and the last fifth day is admired as immersing the idols to the nearby river, carried on a bullock cart. Do not forget to take prasadam or Bhogam, distributed after the Aarti –session.
Address: Near Main Market, Chittaranjan Park
6- Kalibari, Mayur Vihar-1 –
Kalibari in Mayur Vihar extension-1 every time prepare the pandals of Goddess- Durga in a peculiar style with incompatible themes for the solemn decorations of each idol. The biggest event of the year with various cultural competitions and traditional programmes are organised here 5-6 days prior to Navratri functions.
The marvellous idols of Durga deity are fabricated with a fusion of classic as well modern style. People also believe in the ritual to submerge the idols on the last day with proper Bengali tradition. These divine epitomes are created by the artistic whizz who work the hardest for maintaining these statues for Durga Pujo each year.
Address: Pocket-2, Mayur Vihar-1
7- Minto Road Puja Samiti –
Minto Road Puja Samiti is well-known for its remarkable and worthy of attraction Durga idols.  Also organises Bonedi Pujo at the time of the Navratri gala to fascinate the people around.
This, being the oldest Durga Puja pandal makes you feel like you are at Bengal whereabouts, during the Durga Pujo and can even feel the aura of their buoyant culture and environment throughout the days of the festivity. The Durga Pujo is maintained by the local Bengali residents inside the main park and creates an exemplar of upbeat sophistication for the goddess lovers.
Address: The connecting point of Deen Dayal Upadhyay Marg and Ahalya Bai Road.
8- Milani Puja Committee, Mayur Vihar-1 –
Milani Puja Committee codifies the Puja pandal into a revealing set of Durga statuette, designed by the Bengali maestro craftsmen. The whole area where pandals are installed get converted into a hub of cultural zest and pious surroundings at Durga-Pujo. The entire committee becomes vicinity for aristocracy gatherings which glorifies the Durga abode with devout feelings all around.
The skilled artificers beautify the pandals in Bengal classic style, termed as- Shastriya Pratima and bedeck the deity by adding the decorative features. The Committee also throws cultural nights and organise umpteen food stalls, hopping etc. for the admirers.
Address: Near Supreme Enclave Apartment, Mayur Vihar-1
9- Arambagh Durga Puja Samiti –
Arambagh Durga Puja Samiti set Durga Pandals along with decorated Mandapam to celebrate this Goddess Festival with much fervor and devotion. In South- Delhi, Arambagh Durga Puja Samiti, situated at Punchkuian Road is also solemnized the 'Durgotsava' during the nine days of the Navratri festival which holds a very special place in the hearts of Mother –Durga followers.
It commemorates the Durga Puja carnival with exceptionally outrageous and exorbitant way; meanwhile get involved in its silver jubilee celebration since 2013. For Durga Pujo, they also organise high-cost and big-budget hopping stalls with lofty towers and designed pillars.
Address: Arambagh, Punchkuian Road
10- Matri Mandir Samiti Safdarjung Enclave, B-2 Block Durga Puja –
Portraying extremely dazzling theme throughout the festivity is their prime task. Matri Mandir Samiti in Safdarjung area works pretty hard to exhibit the out of the box decorated themes to delight the visitors and admirers aesthetically. Their idols are embellished in golden and silver attires and are eye-soothing. During Puspanjali and Dhunuchi Naach, various religious activities are lined up to entertain the fanatics at the time of Durga Pujo. Traditional dances, singing competition and other fun-activaites are also  acclaimed to enthral the viewers and the participants.
Address: B-2 Block, Safdarjung Enclave
11– Shipra Suncity Sarbjanin Durga Puja Mandal –
The Durga pandals in Indirapuram, Ghaziabad are famous for their subtle and decorative idols of Mother Power- Durga which reveals the natural epitome of the divinity. They come up with the inventive ideas of adorning Durga deities to impress the devotees at the time of the Durga Pujo.
The Durga pandals over Shipra Suncity Sarbjanin are known for their graceful and stylish in appearance and depiction. If you are a pious devotee and do not want to miss the chance of taking a glance of Goddess then you must go and visit Shipra Suncity Sarbjanin Puja Pandal to behold the allure of Mother in your eyes.
Address: Shipra Suncity, Indirapuram, Ghaziabad, Uttar Pradesh
12- Durgotsava, GK II –
One of its kind aesthetic spectacles is Durgaotsava which discloses the prefect outlook of the India's rich Cultural Heritage. The biggest event of the year is witnessed inside this phenomenon Durga Pandal mostly visited by the high class, celebrities and extop-hole people of Delhi.
Durgaotsava renders one of the organic bhogas in the form of Prasadam after the Aarti which has been considered as a unique diet bhoga. Another major attraction of Durgotsava is cultural nights which display the coeval dances, traditional music and umpteen arts of cultural themes.
Address: Greater Kailash-2, Greater Kailash II, Greater Kailash, New Delhi.
13- Civil Lines Puja Samiti –
The third most happening and major Bengali Festivals in Chittaranjan Park (CR) is Civil Lines Puja Samiti and hence idolized as one of the vibrant Durga Puja Pandals in Delhi region. The dedicated priest organises the solemn imposing ceremonial with religious conventions that includes- Aarti, sacrifice, bhoga (prasada), yajna and many in line. Each and every idol of Mother- Shakti (power) has its permanent platform set up for cultural and religious ceremonies, called- mandapam. Die-hard fans of Mother- Goddess and the Bengali culture witness the allure of divinity to pay homage and to be a part of this 5 day religious gala.
Address: Chittaranjan Park (CR), South-Delhi.
14- Antaranga Durga Puja, Mayur Vihar –
The last but not the least Antaranga Durga Puja pandal, nestled every year in Mayur Vihar is not less than a sublime mounting of Goddess Durga and other deities including the demon- Mahisasura.  People who have a fond of glimpsing Mother Durga in her most glorious incarnation, do not miss the chance of visiting  this must see Puja Pandal in Delhi. This Durga pandal has been tabulated as the most mammoth and enormous Durga Marquee (tomb) in its area, even in the entire Delhi region (NCR).
Unlike others pandals, puja samiti and committees, it's been more than 24 years, Antaranga Pandal organises Durga Pooja celebrations differently with unsurpassed Durga effigies.
Address: DDA Playground, adjacent to Mayur Vihar Extension Metro Station, New Delhi
Evincing the majestic manifestations of Goddess Durga by the sophisticated fuse of classical and modern culture, these idols flaunt the elegance of India in many ways. Also for those living in Delhi NCR (Bengalis and Non-Bengalis), who limit themselves during Durga Pujo while sitting in front of TV and changing the News Channels to catch a glimpse of every pandal of Goddess Durga/Kali, we have tried to list each Pandal with its respective address and prophesied details.
Despite all the diversities such as- the food, vernacular, attire and culture, Bengalis across the country throng together to pay homage to Goddess and to esteem Pujo with a great relish in these Pandals.