Ganesh Chaturthi 2019 – Rituals, Puja, Aarti and Customs
Ganesha/Vinayakar Chaturthi
Ganesh Chaturthi is on September 02nd 2019
Lord Vinayaka, Ganeshji, Ganapathi, Vinayakar is the darling of the masses. Lord Shiva is the feared one, Lord Vishnu is the Revered one, but Lord Ganesha is the Loved one.
The Ganesh Festival or Vinayak Chaturthi as it is popularly known brings people of all religion, caste and creed together,
The 10 days of Vinayak Chaturthi is marked by various cultural events, brotherhood, getting together for artis, pooja, numerous religious functions and the general atmosphere is marked by grand festivities. Sweets, sweetmeat, delicious preparations, hurried and hectic kitchen activity is the hallmark of the 10 days.
In various parts of he country, it is referred as – "Ganpati Basla" (in Marathi it means- One has seated the Lord at home).
Lokmanya Bal Gangadhar Tilak, the revolutionary Marathi leader, ought the youth force together by organizing the Ganesh festival in pandals and public view. It was his way of getting people to come together and displaying religious and communal harmony at the time of the Independence struggle.
As Ekadanta, the Lord has limitless powers. As Heramba, He removes obstacles. As Lambodara, He Protects all worlds. As SurpaKarna, He shows compassion by giving the highest knowledge.

All these names for Lord Vinayaka, who is the Lord of all. Ganesha is also known as Vinayaka, meaning one without a Nayaka (master).
Read here for the 32 forms of Lord Ganesha. You will be surprised each of his mudra and action has a particular significance.
He is the Supreme, all-pervading, Omnipresent, Omnipotent Lord, the one who is worshipped before any one else, to remove obstacles and conclude all ceremonies without hindrance and difficulties.
When is Ganesh/Vinayakar Chaturthi on September 13th 2018
It is indeed a great honor to bring the Vigraha home and indulge the Lord for 3 days, 7 days and 10 days, as per ones
Siddha Shwetarka Ganesha
wish. Daily artis and poojas along with laddoo andmodak/kozhukattai. Puran Poli is a special Maharashtrian festival food which is definitely prepared during the 11 days of the Ganesh festival. Ganesh Chaturthi in 2019 is on, the 02nd September 2019. Ganesh Chaturthi is observed in the Hindu calendar month of Bhadrapada, starting on the Shukla Chaturthi (fourth day of the waxing moon period).
Order the Siddha Shwetarka Ganesha
Also using the velleruku wick or wick made of ark bark is extremely auspicious. We send this wick with every Shwetark Ganesha that you buy.
The Ganesh Chaturthi 2019 puja muhurat or Vinayaka Chavithi puja muhurtham to bring the vigraha/idol home is 11:04 and 13:34
Madhyahna Ganesha Puja Time = 11:04 to 13:34 Duration = 2 Hours 29 Mins
On 02nd, Time to Avoid Moon Sighting = 08:27 to 20:15 Duration = 11 Hours 48 Mins
Chaturthi Tithi Begins = 08:26 on 2/Sep/2019
Chaturthi Tithi Ends = 05:23 on 3/Sep/2019
When to bring Ganesh home in 2019
The Ganesh Chaturthi 2019 Puja Muhurut to bring the Vigraha / Idol home is during the Shubh, Labh or Amrit Choghadiya. If you intend to bring Ganpati ji one day before, i.e. on the 01st September 2019, the Labh time is between 09:33 to 11:05 and the Amrit time is 11:05 to 12:37.
Ganpati ji can also be brought home (Avahana or Welcome) during the Shubh time which is between 14:10 to 15:42. The Muhurut for evening time would be the Shubh time which is between 18:47 to 21:42.
Please note these Timings are as per panchang of Mumbai, India.
The Ganesh Staphna (installation of the Idol) on Ganesh Chaturthi day, i.e. on 14th September 2018 can be done at Amrit time between 06:28 to 08:00 or Shubh Time i.e. between 09:32 to 11:05. Ganesh Pooja is preferred during Madhyanhana on Ganesh Chaturthi as it is believed that Lord Ganesh was born during Madhyahana Kaal which is between 14:09 and 15:42. The Muhurut time specified above is the best Muhurut to perform the Ganesh Puja and to perform any work.
Bring a green idol this Ganesh Chaturthi. Read here to make your own Green idol/vigraha.
All the favorites of Ganesha- Hibiscus, modak, laddoo, dhurva, mooshak
How to do Pooja of Lord Ganesha on Vinayaka Chaturthi- 14th September 2018
Hindu Rituals involve the Pancha/Five Upacharas/offerings. They are namely;
 Gandham (Fragrance) in the form of white or red Sandalwood paste,
 Dhupam (Lighting of Incense Sticks),
 Deepam (Lighting of Oilor ghee Lamps)
 Naivedyam(Sanctified Offerings of fruits, sweetmeats etc.) and. Modak and Motichoor Ladoos
 Pushpam (Pushpa-Flowers). The Hibiscus or the Shoe flower is a favorite of the Lord. Dhurva Grass malas are also quite popular.
Important Ganesha Pleasing ritual:
Topikaranam for Ganesha- Shuklam Varadhanam Vishnu…
One important ritual of praying to Ganesha is the "Topikarna" or the "Topikarnam or Toppukranam", where in the devotee cross holds the lobes of his ears in front of the Lord, half sits for 3 times (like the bharatnatyam dancer) and then tugs at his ears by holding the tip of both the ears with his thumb and fore finger of his hands in a scissor like fashion and repeat the action of squatting and standing. Ganesha is believed to grant boons to anyone who does this.
"Topikaranam' means "Thwabhyam Karna" in Sanskrit " – I listen to your Command, Oh Lord Ganesha'. One must then prostate completely with chest touching ground and legs outstretched.
This means that the tugging of the lobes is the asking for forgiveness from the Lord for misgivings and ill-deeds done knowingly or unknowingly. Generally the men and male kids of South India practice the toppukarna.
Coconut for Vinayaka Chaturthi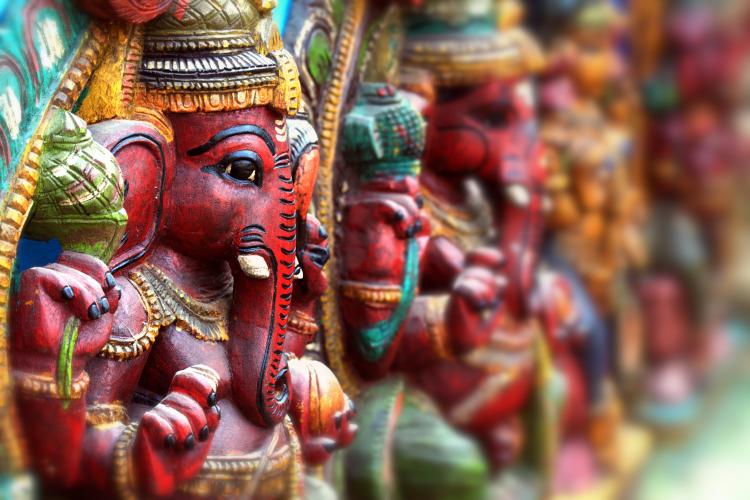 Before beginning any pooja, these materials should be kept handy. Take a bath, cleanse yourself and then stand with folded hands in front of the deity and offer all the above. Wet whole coconut (peeled off the exterior husk) but with a small stalk of husk on the top symbolizes the Bramhin or purest offering to the Lord.
Breaking of this coconut or the act of"Chadur Thenga" means that we smash our egos in front of the Lord and submit our soft white inner self at his feet.
Shubha Drishti Ganpati is an all-powerful glorious divine form brought into being with the unique, powerful blessings of Sage Agastya, the foremost among the eighteen Siddhars.
Shubha Drishti Ganpati– Buy here
What items are favorites of the Lord
Modak for Ganesh Chaturthi-Vinayakar Chavithi
 Modak: The Lord Ganapathy has a special liking for the sweet dumplings- Modak/Kozhukattai and Laddoo. Ganesha's mother Parvati made tasty modak for her son, hence he is especially fond of them. Read here how to make home-made modaks.
 Durva: (Three blade grass, Trefoil) is also offered to Ganesh. There are many interesting facts relating to why Durva is offered. Once Ganesha destroyed a demon called 'Analan', by swallowing him. The demon went inside and burnt the 14 worlds situated inside Ganesha, thus causing enormous heat. Ganesha searched for Doorva Grass and wore it as a garland to nullify the heat inside. Doorva is a substance known to create heat and by the principles of two negatives make thingspositive, the heat was quenched.Doorva/Dhurva Grass is therefore used as a supreme offering in Ganesha Puja. Make a dhurva garland by combining several dhurvas together and tying them in a mala/garland for the Lord.
 Shoe flower/Hibiscus: Fist of all, the red color of the flower is a personal favorite of the Lord and then the 5
petals of the Hibiscus denotes the warding of negative energy and the welcome of the positive energy into the Universe. On a more practical level, it is the seasonal flower of the Bhadrapad month of the monsoons, hence our ancients have advocated this particular flower. Especially the color red is highly auspicious.
Rules to pluck flowers and offer to the Lord:
 Always pluck flowers only after your bath.
 Do not pick flowers fallen on the ground(except Parijat).
 Do not offer Nirmalya (re-used flowers), flowers that have already been offered by others.
 Do not throw/fling flowers on the idol. Offer them with both your open palms at his feet.
What it the Angaaraka Ganesh Chathurthi
The fourth thithi of each moon phase is known as Chathurthi. Chathur = four. 24 to 25 Chathurthis occur each year. When the Chathurthi thithi occurs on a Tuesday, it's known asAngaaraka Chathurthi in recognition of Sri Angaaraka, the Vaara(weekly- Mars-Chevvaai-Mangal) devata for Tuesday who performed special pooja for Lord Ganesh.
When praying to Lord Vignaharta, the following stuti should be sung
Ganesha Stuti (Praises to the Lord Ganesha)
Agajanana padmarkam gajananam aharnisham Anek dantham bhaktanam yekadantham upasmaheth ||1||
Vakratunda mahakaya koti surya samarprabha Nirvignam kurume deva sarvakareyeshu sarvada ||2||
Pranamya shirasa devam gouri puthram vinayakam Bhakthavasam smarenithyam aayuhkaamartha sidhaye ||3||
Gajananam bhootha ganadhi sevitham Kapitha jambo phala sara bhakshitam ||4||
Umasutham shokha vinashkaranam Namami vigneshwara pada pankajam ||5||
Related Article about Ganesha Chaturthi
All Details About The Grand Ganesh Chaturthi
Ganesh Chaturthi 2019 – The 11 Days Celebration!
Ganesh Chaturthi 2019 – Rituals, Puja, Aarti and Customs
Ganesh Chaturthi – Unique Love Story of Tulsi and Ganesh
Ganesh Chaturthi Puja Vidhi - Ganesh Puja at Home
Ganesh Chaturthi – The Mysterious Curse To The Moon By Lord Ganesha
Source: http://www.drikpanchang.com/festivals/ganesh-chaturthi/ganesh-chaturthi-date-time.html
http://www.rudraksha-ratna.com/articles/ganeshchaturthi
Youtube: