Gauri Puja 2018 – Festival of Maharashtra to worship Goddess Gori (Parvati)
Aesthetic consort of Lord Shiva- Goddess Parvati aka Gauri is being worshipped three days in continuity during the month of September. She is venerated among her avid followers, especially women across the world on the days of Gauri puja/pujan. In folklore, they say-Mother Gauri brings in great fortune, good health and utter wealth to the ones who worship her with maximal devotion and sheer dedication.
Therefore, it is advised to venerate Goddess Gauri on these 3 days of the festival- Gauri Puja that can be fruitful in many ways. Gauri Puja will be solemnized on 25th September in 2018. Gauri Puja is also considered very significant to get a perfect husband.
It is also depicted in Hindu scriptures that Goddess Sita conducted Gauri Puja to get Lord Rama as his ideal spouse.
Three Day Festivity at Maharashtra – Gauri Puja :
Gauri Puja is one such Hindu observance which is observed with great adherence and much lively spirit in Maharashtra, just like Ganesh Chaturthi by its native people .Gauri Puja is celebrated to pay homage to the Mother of Lord- Ganesha (Ganpati)-Goddess Parvati in Indian states, more vibrantly in Maharashtra, Madhya-Pradesh and some nearer South-Indian states as well. It is more famous with the name – 'Gauri Pujan' or 'Mangala Gauri' among Maharashtrian women.
First Day of Gauri Puja :-
The reverence starts with the very first day on 15th September, stated as the Gauri Avahana, which is observed as the installation of the loving Goddess- Gauri idol in houses and other pilgrimages. Worshippers perform puja after fixing the statue and before that prepare dished for prasad- bhog for three main deities- Lord Shiva, Goddess Parvati and their Lord Ganesha.
Second Day of Gauri Puja :-
The second day of the festivity is praised as performing Satyanarayan puja with all the specific rituals. It is advised to call a priest to perform the whole rituals of Satyanarayan puja at homes.
Third Day of Gauri Puja :-
Gauri Visarjan is the last day, when the Mother statue of Gauri is immersed in water after Gauri Puja, followed by pious ceremonies which is accomplished on the last of the Ganesh Chaturthi, i.e. Ganesh Visarjan.
Religious Celebration during Gauri Puja :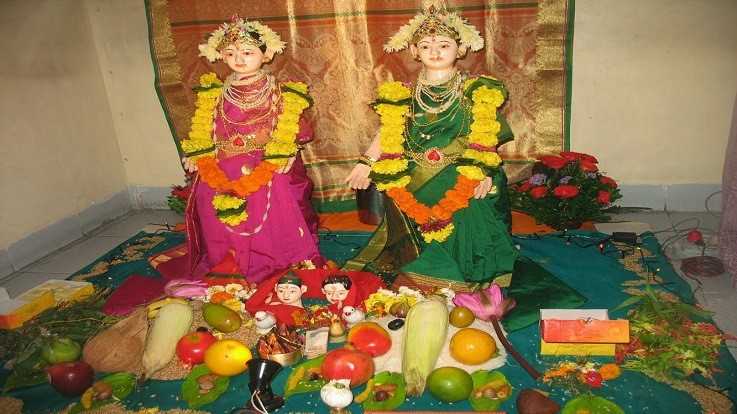 During this popular female festivity- Gauri Puja/Pujan, Maharashtrian women stay awake the entire night along with their friends.
They involve themselves in various traditional rituals and conventional plays like Zhimma and Phugdi.
After wearing red sari, women adorn themselves in solah shringar and visit each other's house.
Also go to the Shiva temples to proffer flowers, fruits, holy water and prasad to the Shivlingams.
They conduct a small pujan inside the temple and offer even a new sari to the idol of Goddess Gauri.
Sing Mangala Gauri songs and chant her mantras the whole night to please her in every possible ways.
Lord Ganesha and Lord Shiva are also revered at these three days of the occasion– Gauri Puja along with Goddess Gauri. Devotees including unmarried girls and married ladies endeavour hard to get their immense boons and blessings for a happy and gratified married life ahead.
If you are also looking for exact Muhurat to worship during Gauri Puja and Ganesh Chautrthi, Contact Jyotirvid for Shubh Muhurat details.
Related Article about Ganesha Chaturthi :
All Details About The Grand Ganesh Chaturthi
Ganesh Chaturthi 2018 – The 11 Days Celebration!
Ganesh Chaturthi 2018 – Rituals, Puja, Aarti and Customs
Ganesh Chaturthi – Unique Love Story of Tulsi and Ganesh
Ganesh Chaturthi Puja Vidhi - Ganesh Puja at Home
Ganesh Chaturthi – The Mysterious Curse To The Moon By Lord Ganesha