Shiva– The Almighty God who is omnipotent and is associated with Destruction. He is one of the supreme divinities among the Trimurti (Hindu-Triad). Masik Shivratri is a Hindu Festival observed monthly to pay reverence to the invincible Lord of the Lords Shiva.
You should Know: Masik Shivratri 2021 Dates
It is monthly solemnized on 'Krishna Paksha Chaturdashi- the fourteenth day of the lunar month during the waning phase. It is being observed almost every month to bestow honor to the Godhead. As per the Hindu calendar, Masik Shivaratri which is observed on Phalguni Month is famed as MahaShivratri thus commemorated once a year. On Shivratri, Lord Shiva was incarnated into one of its exemplary manifestations (avatars)-Shivlingam (Shivlinga). Let's now discuss the importance of Lord Shiva's Divine Nights.
You may like: How to Perform Shiva Puja at Home?
The pious importance of Masik Shivratri
Among the Hindu Devotees, Monthly (Masik) Shivratri is acclaimed as the most favorable if it falls on Shivratri Puja or Shivratri Vrat. When avid followers of the Lord are involved in the arrangements of the holy ceremony, concurrently, let's discuss a bit about its importance:
Worshippers' observe an austere fast with proper Puja vidhi to seek the blessings of Lord Shiva.
An utmost strict fast (vrat) by married women is kept for a better life of their husbands and sons.
Unmarried Young girls also fast for a preferable husband in future.
They devotedly venerate Lord on the propitious days of Masik Shivratri in his beautifully adorned temples with a proper set of rituals and sacraments.
It is considered eminently fortunate to visit Hindu holy pilgrimages for his veritable boons and utter benedictions.
'Nataraja' who is a cosmic dancing form of Lord Shiva is also revered by devotees for attaining salvation to burn lust, selfishness, hatred, pride, bitterness and envy within.
Shivratri is noted as the auspicious night in honor of Lord Shiva. Hence, it is commemorated during the night with fanfare and exuberance.
Masik Shivratri Katha- The Folklore of this Divine Ceremonial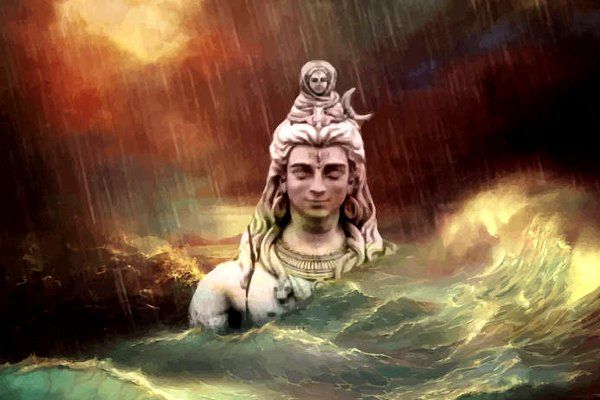 In Hinduism, every unique festival has its own quirky mythical story associated. Let's know the one associated with Masik-Shivratri.
Once there was an argument on- who the superior is amongst the gods- Lord Brahma and Lord Vishnu. All of a sudden, a sturdy pillar of blaze appeared in the middle of the conversation. However, the origin edge of the pillar couldn't be detected. Therefore, they agreed on a part that whosoever found the end of the pole would declare to be the most powerful.
Simultaneously, Lord Brahma winged up as a large water-bird Swan to observe the top of the pillar whilst Lord Vishnu took a shape of an uncastrated domestic male pig-boar to explore the pole bottom. Unfortunately, no one found either end even after putting in numerous efforts. Despite it, Lord Brahma lied that he had seen the top. After listening to this, Lord Shiva appeared and babbled out the truth that it was he who has been manifested as the pillar in front of them. As a punishment, Lord Shiva cursed Lord Brahma that he would never be worshipped by the devotees and there would never be any temple with his name on earth.
Take Advice from our renowned astrologers/pundits/predictors to know more about the Puja Vidhi and the exact procedure of performing various religious ceremonies and rituals during Masik Shivratri and MahaShivratri etc.